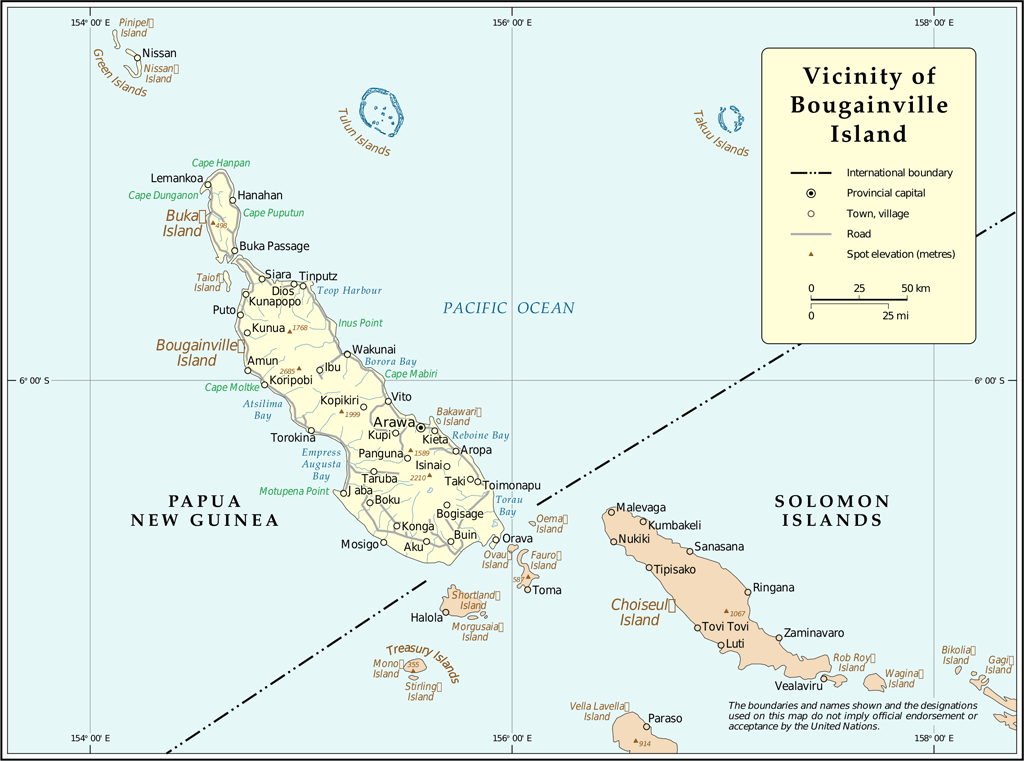 Bougainville is familiar to World War II history buffs as the scene in the 1940's of air, land and sea battles between the Allied forces and the Japanese during the Pacific Theater's island hopping military campaigns as well as the site of the fatal plane crash of Admiral Isoroku Yamamoto, Japan's most venerated hero of the war.
From 1972-1989, Bougainville was the site of the Panguna Mine, a huge but ultimately infamous copper and gold mine owned and operated by Bougainville Copper Limited, a controlled subsidiary of the Rio Tinto Group, the Anglo-Australian multi-national metals and mining corporation.
The Panguna Mine was responsible for a large portion of the exports, tax base and gross domestic product of the newly formed country of Papua New Guinea, which, including Bougainville, became independent from Australia in 1975. However, the vast majority of Panguna's economics went to Port Moresby, the Papua New Guinea capital 600 miles away; Bougainville and its citizens received very little.
Ultimately the Crisis—an armed insurrection by Bougainvilleans—ensued, and in 1989 BCL and Rio Tinto closed down the Panguna Mine. Papua New Guinea enforced an embargo, and as many as 20,000 people died before a UN peacekeeping force arranged an end to the Crisis, involving significant changes to the governments of both Papua New Guinea and Bougainville.
The resultant Autonomous Region of Papua New Guinea is largely a self-governing democracy, with its own President and legislature. And while Bougainville Copper Limited still is trying to negotiate a new deal at the Panguna Mine, in 2016 Rio Tinto threw in the towel, transferred its controlling interest in Bougainville Copper Limited to the governments of Bougainville and Papua New Guinea, and walked away.
In 2016, Papua New Guinea and Bougainville also agreed to conduct a referendum regarding Bougainvillean independence on June 15, 2019.
The upcoming referendum highlights for Bougainville and its people the importance of economic development. There has been no mechanical mining on Bougainville since the Panguna Mine closed down twenty eight years ago, but because of Bougainville's vast resources, mining is the key to its economic development.
In late 2016 the Bougainville government removed the last legislative barrier to mechanical mining, and in May of 2017 it began taking mechanical mining applications. But this time the miners won't be foreigners but rather Bougainville's own tribes and clans—what are known as customary landowners. Only a duly authorized, Bougainvillean customary landowner organization may apply for a mechanized alluvial gold mining license. However, such a licensed party may collaborate with a mining partner.
Bougainville is moving on. With the Crisis behind it and an independence referendum in the offing, it is time now for a peaceful, democratic Bougainville to establish a balanced economy for its people.
The Company anticipates playing a major, helpful role in working with Bougainville's people toward this end.